Opa's Garden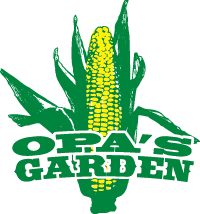 The increasing interest in local produce has provided Heartland Growers with the opportunity to grow, harvest and sell locally-grown produce nearly year-round.
Our greenhouse allows us the advantage of starting our plants indoors, when the outdoor temperature is still too cold, then moving them to their natural growing habitat when the weather breaks. This affords us the opportunity to have fresh produce earlier and later in the season than standard outdoor growing environments.
Opa's Garden produce is sold at our main location in Westfield, IN, and is open to the public.
Over the past year we have grown the following items. For current availability please call or email.
Tomatoes ( 12 Different Varieties)
Bell Peppers
Sweet Peppers
Hot Peppers
Eggplant
Tomatillos
Summer Squash
Winter Squash
Cucumbers
Sugar Snap Peas
Sweet Potatoes
Red & Gold Potatoes
Red, White, & Yellow Onions
Assorted Pumpkins
Assorted Gourds
Green Beans
Carrots
Radishes
Sweet Corn
Zucchini
Watermelons